Square 4 MKII
About my Ariel Square 4 restoration
Ariel Square Four 101
Like the Triumph twin and Daimler V8, the Square Four Ariel is often met with a comment about Edward Turner. It is also often met with comments about overheating and "my dad had one of those" and in the case of this bike, all of those are true.
For a quick 101 on the "Squariel", they enjoyed a production run spanning from 1931 through to 1959 in which  time 5 variations of 4 models and some 15,639 machines roared out of the Ariel factory at Selly Oak, Birmingham. 1959 production figures are not usually counted as only a handful of bikes were made. In the early 1970's the Healey brothers produced a limited number of Healey 1000/4 specials. These were a beautiful machine and demonstrated an opportunity missed by Ariel.
The first model was an Edward Turner designed 500cc OHC machine designated 4F which was produced from 1931 through to 1932. The 4F received a boost in 1932 when the engine was enlarged to 600cc by popular request from sidecar rider looking for more power. Production of the 4F continued until 1936.
Complainants about overheating led to a design overhaul and subsequent launch of the 4G in 1936 which had 995cc OHV cast iron engine. In 1949 the cast iron head and barrel of this engine was replaced with alloy items saving some 30lbs in weight which helped unleash the full 35bhp potential of this engine.
The final incarnation of the Squariel was the 4GMKII launched in 1953. This had a new 997cc alloy engine with the iconic 4 exhaust pipes, full width front hub (supposedly for better braking potential) and a larger 1 gallon oil tank for improved cooling. Now with a heady 40bhp available at the twist grip, the 4GMKII could propel those brave enough up to the magic "ton" 100mph.
A bit about this Square Four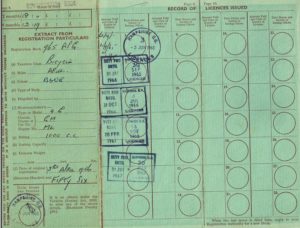 My bike is a 1956 4GMKII. First registered in Gosport, UK on 3rd April 1956, it remained on the road until 1965. I am unsure of its history after that until my father imported it to New Zealand in 1977. I do not recall my father riding it much as he had a Norton Dominator which he seemed to prefer. My brother and I both used the bike regularly. I was an early member of the Timaru Post Vintage Motorcycle Club and took it on many club runs. Much later I had to borrow a 50cc Suzuki to sit my motorcycle licence on but that is another story!
During one of PVMC runs (while heading towards the Southern Alps on a trip across to the West Coast of the South Island), the bike experienced a significant engine failure and, as far as I can recall, this is the only time that it has failed to complete a journey under its own power. An engine pulldown revealed the only thing square about the square four was its camshaft. The engine was re-sleeved and cranks ground while the engine was apart and it was ready to go again for several more years of service.
Going back to the subject of breakdowns, the only other time that it suffered issues while I was riding was a mid-summer journey through alpine backroads in Central Otago (Sth Island again) and we ran into bad weather with snow. Being young and bullet proof, and as it was mid-summer in the hottest and driest part of the country at that time of year, I was only wearing a tee-shirt under my jacket and not wearing gloves. The rain and snow caused the throttle cable to freeze at about ¾ throttle. The road that we on was gravel with bedrock protruding in many places and was very steep and twisting with drops off every corner. I ended up descending the pass riding one handed using the ignition key as the throttle. I can assure you that the first pub that we saw was a very welcome site. I also moved the ignition switch to the offside after experiencing the joys wet hands fumbling through the HT leads to turn the ignition off and on!
A change in life circumstance meant that I moved to another city (and subsequently to another country) and was not able to take the bike with me so it was put into storage and along with "I must dig out the old Ariel and do something with it" thoughts for the next 20 odd years.
My father passed away at the beginning of 2015 so that gave me the chance to return home and while tidying up his affairs, I decided that it was now or never time to bring the bike out of storage, bring it across to Australia where I am now living and restore it as a tribute to my late father.
Making the decision to do that was the easy part!